None of us like to talk about death or funerals. To some cultures, the conversation is even considered a taboo. Losing a family member is an emotional experience thus grief can make the funeral planning process quite difficult. However, the idea of pre-planning final arrangements helps to relieve your family of both emotional as well as financial burdens. Planning a funeral is a highly personal process. This process is usually shaped by one's life experiences, what the deceased may have wanted, the relationship shared with the deceased as well as what one can afford. Even though it is a personal affair, you will still need to make a lot of planning. Here is a small guide on planning a funeral as well as a checklist to help make the process seamless for you.
Types of funerals
Although funerals often have many elements in common, they may differ due to culture or religion. Some of the common types of funerals include:
Religious funeral service. There are visitations and viewing of the body before burial. Usually, a religious leader conducts the service where special prayers are made, hymns sang and eulogies read. There is also decoration by flowers symbolizing respect and love for the deceased.
Non-religious funeral service. With this type of funeral, there are no references to God or religion. The main section of the service being tributes by friends and family. It practices a moment of silence as a way to honor the deceased person.
Direct cremation service. With this type of funeral, there is no visitation or service. The body of the deceased is taken directly from the morgue to the crematorium.
Burial at sea. During this type of funeral, the body of the deceased is released into the ocean from a boat or aircraft. However, burial at sea is highly regulated and thus one needs to hire a company that specializes in this particular service.
The purpose of a funeral service
Funerals have been with us for ages and they help us move from life before death to life after death. They serve significant purposes to family and friends of the deceased. These include:
Funerals allow us to reflect on the meaning of life and death and find purpose in our continued living. They mark the significance of the life that was lived, even in the face of loss, and offer continuity and hope for the living.
Funerals help us acknowledge that someone we love has died. It helps us accept the fact that death has visited us.
Expression. Funerals offer the space for friends and family of the deceased to express their inner thoughts and feelings about the deceased. Through the release of expressions and emotions, mourners can move closer towards having closure for the loss of their loved ones. Funerals allow us to say goodbye.
Support. Funerals provide a support system for friends and family members of the deceased, as well as the community. It brings together people who care about each other in an atmosphere that is of love and support.
Recall. Funerals allow mourners to remember the deceased person's life and share the memories that they had with the person.
Components involved in funeral plans
Funeral plans include everything from burial permits to what the departed wears. However, the three main activities involved in funerals are:
The visitation. Commonly referred to as viewing, this activity is often held before the funeral, usually the night before. It involves people coming to support the family and pay respects to the deceased. Mourners step up to view the body either in the company of a member of the deceased family or on their own.
Funeral service. This is commonly held in a church or funeral home. In a church, the service is led by a pastor whilst a funeral director usually takes charge of it in a funeral home. The person leading the funeral service normally follows a very predictable order of service which includes the singing of hymns, recitations of the bible, prayers as well as scripture reading.
Committal service. The committal service normally takes place at the cemetery grounds, the final resting place for the deceased. A procession from the place where the funeral service was held leads to this location where the casketed remains are lowered into the ground and final prayers said.
Guidelines for a funeral checklist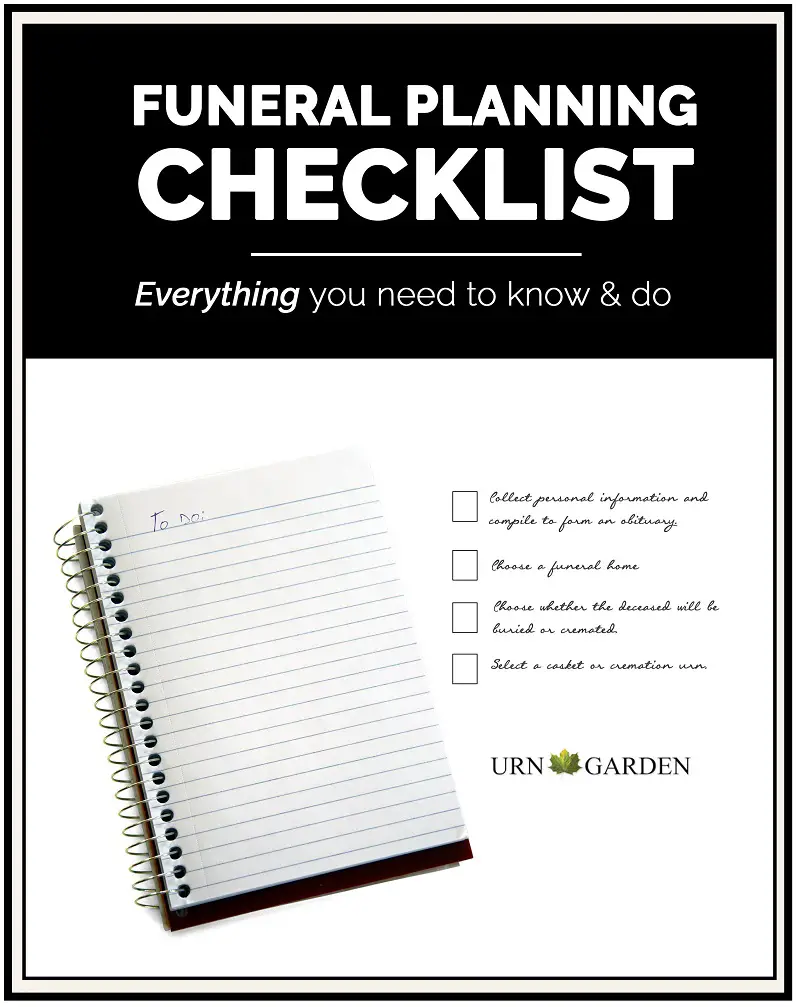 Honoring our deceased loved one doesn't have to be overwhelming. One has a choice about whether to have a simple or elaborate funeral, with your taste, beliefs, and budget to determine the type of funeral you can arrange. We are all likely to arrange a funeral for a family member at some point thus the need to know how to make smart decisions. This process requires a variety of time-sensitive tasks and extensive knowledge of the deceased. Hence the need for a funeral checklist to help keep matters in order and on track. Some of the tips towards proper funeral planning include:
Look for pre-arrangements, determine whether the deceased had left behind a pre-arranged funeral plan. Where one exists, it will then specify the funeral service provider that the deceased had selected and his/her wishes about how they want their funeral to be celebrated.
Filing records, clear any pending mortuary bills, and getting all the necessary legal permits; All funeral services must be conducted under the law thus compliance is important to ensure the smooth celebration of the life of the beloved deceased.
Decide on the type of disposition per the deceased wishes, their family, and religion.
Depending on the disposition, choose a casket, clothing, coffin, or cremation container.
Organize transport for the deceased and family members and any other mourner, where possible.
Identify a specific location for the interment.
Choose an officiant or funeral conductor to lead the service; Where the service will be held in a place of worship, chances are that the religious leader there will officiate according to traditional practices.
Choose pallbearers to escort or carry the casket; Ensure to select people who are physically capable of carrying the casket.
Identify people to deliver eulogies; Identify a person who is emotionally strong to deliver eulogies audibly.
Select readings, prayers, and songs that you would like conducted during the service; Consoling hymns and prayers of encouragement usually help in comforting the mourners.
Settle on a flower arrangement to have at the service; You can decide to purchase the flowers on your own or seek the professional services of a funeral home. Common flower arrangement includes casket sprays, hearts, crosses, wreaths.
Decide on an order of events for the service; Produce copies of a program Indicating the timing of events, songs to be sung as well as an obituary of the deceased loved one. This helps the funeral service to flow smoothly.
Purchase a guest book and pens; Organise for someone who will put these out at the service and collect them afterward. This allows mourners to leave their messages of condolences and tributes to the deceased.
Funeral misconceptions
In society, there are numerous misconceived thoughts about funerals. Some of which include:
Funerals are only for adults. There is no age restriction for mourners. Anyone who is old enough to love is old enough to mourn the loss of their loved one. Therefore children too should be allowed to attend funerals.
Funerals are inconvenient. This is not true. Funerals are a privilege for mourners to demonstrate their love for the deceased and offer support for the bereaved family.
Funerals make us too sad. As much as death brings with it sadness, funerals provide a safe place where people can embrace the pain of losing their loved ones. They are a celebration of a life well-lived.
Funerals are for religious people only. Non-religious people also hold funerals. They too gather to grieve with the bereaved family members as well as friends.
Funerals are very expensive. Funerals can be as simple or elaborate as one's budget and expectations. Funeral homes offer different package services to cater to different budgets.
Conclusion
Although arranging funerals often prove emotional and sometimes exhausting, they provide an opportunity for family members and friends to gather together to offer comfort and support to those close to the deceased and each other, as well as honor and remember the person who died. On the other hand, planning a funeral service allows one to design and specify the funeral service they would like hence allowing your family and friends to celebrate you as you wish. Letting your family and friends know about how you would like your funeral service to be done also makes making decisions about your funeral less difficult during an emotional time.