Caregiving, especially when its long-distance or fulltime can be so emotionally wrecking. You find yourself constantly worrying about your loved one's safety and well-being. You get so preoccupied with the constant back and forth to deliver groceries, refill their meds, calling all day to find out if they took their meds and so forth. You are hardly left with any time for yourself. If all these apply to you, then its time to consider in-home care for your loved one.
In-home caregivers will relieve you of some of these demanding tasks such as preparing meals, bathing, light housekeeping and household chores, dressing, and other daily activities. They also provide companionship to your loved one. Having a home caregiver will really ease things for you and you can finally focus on your life, career, family and even taking a  vacation without worry. Sounds like a good deal, right?
If you are still debating on whether to go ahead and get an in-home caregiver, this article will help you decide whether its time or not and how to go about it.
Signs that it's time
If they neglect their personal appearance and hygiene
If your loved one is unable to maintain their personal hygiene and grooming then it means its time to get them a helper to help them with their personal cleanliness. Cleanliness is a very important aspect of their lives. It's part of them being healthy.
If they are unable to perform simple familiar tasks in the home
Not being able to perform easy tasks like making a cup of coffee, microwaving their lunch, going to the bathroom and other daily simple tasks is a sure indication that an in-home caregiver is needed.
Inadequate foodstuff in their home
Inadequate foodstuffs in the house is a sure indication that they are not feeding well. Other signs along these lines are weight loss, and being sickly due to malnutrition. An in-home carer will ensure that their house is stocked with all the necessary groceries as well as prepare and cook healthy meals for your loved one.
Unexplained bruises and injury marks
If your loved one has unexplained bruises and injuries, chances are that they are having difficulty in moving around. As one gets older, stability becomes less and less and they become prone to falls and slips which can be fatal. According to recent statistics,  falls are said to be the leading cause of fatal injuries and hospitalized admissions due to non-fatal trauma. This is a more than enough reason to get an in-house caregiver for your loved one.
Difficulty in dispensing medication
As one gets older, unfortunately, they may end up requiring so many medications for their old age illnesses. Keeping track of all these medications can be so difficult and not to be mention unsafe, and so hiring an in-home caregiver to assist in dispensing the medications becomes an unavoidable subject.  An in-home caregiver will keep track of all medications, and even note down the progress of conditions. They also monitor vital signs that would otherwise be fatal if not closely monitored.
Deviation from their daily routine
If they can't hold down or follow their daily routine its best to consider an in-home caregiver. Skipping meals and bathtime, waking up at odd hours, doing the right things at the wrong times are all deviations from their daily routine. Having someone following through to make sure they do what they are needed to do is important.
Burnt out caregiver
Another sign that an in-home caregiver is needed is when the primary caregiver has burnout or is unable to do the tasks or errands they were once doing. In most cases, the primary caregiver is a relative, a neighbor, or a friend and not a professional caregiver who also has a life to live besides tending to their loved one.
How to bring up the conversation of hiring in-home care?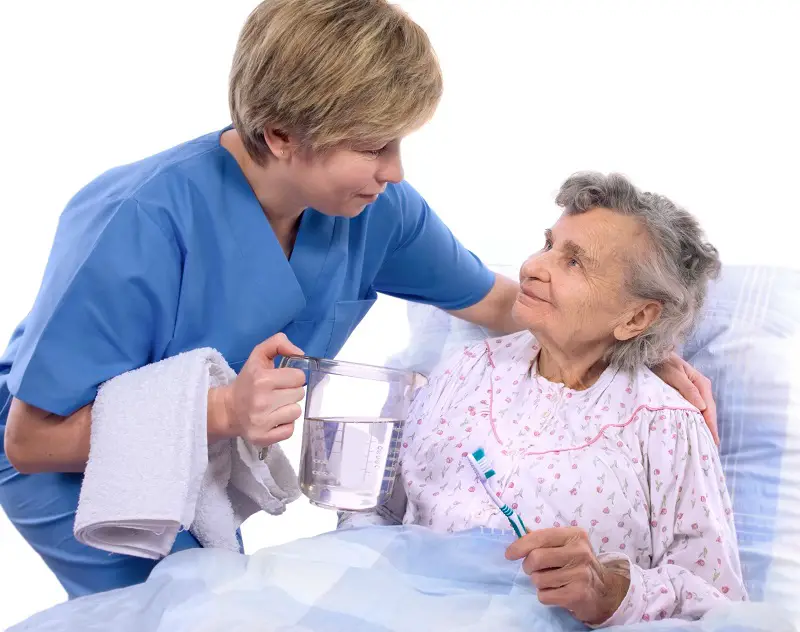 Well, this is obviously not going to be a very smooth sailing conversation and I can assure you that it will be met with some resistance. Lucky for you, our conversation starter tips will help breakdown the awkwardness. First and foremost, emphasize with them. Make them feel that you understand their situation and that having an in-home carer is not in any way an attempt to take away their independence but to assist them to live a full life.
Discuss what you have observed while being very specific. Give them concrete examples of the areas where you think they are failing and need help with. Ask them for suggestions before bringing up the idea of getting them an in-home caregiver. This should be easy if they acknowledge their situation otherwise you have a lot of convincing to do which may take days to get them to say yes. Do not patronize them, instead talk to them as though you are talking to your senior. Even though their behavior and reasoning may be childish at this point in their lives, they are still adults and as such must be addressed as adults. Explain to them about the benefits of having an extra set of professional hands both to them and you as the caregiver.
If your efforts do not bear any fruits, consider having an authority speak to them. You can ask their doctor to explain to them and convince them of their need to have an in-home carer.
Tips for hiring an in-home caregiver
Basically hiring a caregiver is the same as hiring any other worker. You have to follow a set procedure which includes:
Writing down a very clear job description with all the tasks that you need help with
Deciding how much to pay
Sourcing for a caregiver through referrals and home agencies
Screening and doing multiple interviews
Trail period
Hiring
To get the best out of an in-home attendant it is always wise to draw up a contract which a clear and specific job description. Write down everything that you need help with and what you want to be done. Do not make assumptions. Remember to check their credibility. Important things to look for when interviewing include:
Experience. A professional in-home attendant must be experienced in caring for the aging. They must have knowledge and experience in handling different scenarios and areas of old age. If your loved one has conditions such as dementia, they must have experienced dealing with a dementia patient.
Compassion. For your loved one to feel safe, loved, and cared for, the attendant must be compassionate. They must empathize with them and be attentive to their needs. This will help foster a long healthy relationship.
Patience. Caregiving of any sort requires patience and especially if your loved one has pre-existing conditions such as Alzheimer's and dementia. A quick and easy way to find out if they are patient is to ask them of any trying moments in their career and how they went about it. If they look worked up and irritated as they respond to you be sure patience is not a virtue they possess.
Communication. How good are they in communicating? A good attendant must be able to comfortably hold conversations with your loved one. After all, they will be spending a good amount of time together. They should also be able to communicate promptly in case of anything and have problem-solving skills. They should also be able to talk your loved one into doing things when they are being stubborn.
Where to find an in-home caregiver?
There are two ways to find an in-home carer. You can either use an agency or hire one directly through referrals. A home care agency is the fastest, safest, and probably the best option. They take their time to screen their agents before hiring and do their best to match you with an agent who will understand your needs. If the worker sent is not to your liking, you can always request them to send you an alternative. Also, if your carer were to take an emergency leave or go for a vacation they send you a temporary replacement. Which is good because you will not be left stranded until your carer returns. The only downside is that you will pay more for a carer from a home care agency than a private hire.
Among the things to consider when using an agency are:
Whether they are licensed. You want to use an agency that is licensed to operate a home care agency by their state for your own safety.
You also want to consider how long they have been in business to determine how experienced they are in handling seniors who need in-home care
You also want to ensure that all their agents are licensed to work as home care workers and are insured.
It would be a great idea to visit the agency and see how they train their workers, how they supervise them, and monitor their work progress. You can start off by checking out Home Care Assistance to find an agency near you. Other agencies with great reviews include Nurse Next Door, Home Instead, and Visiting Angels.
Lastly, you want to confirm their fees as well as what's included in the package and what's not included. Don't forget to ask for a list of references. For private hire, you can always ask your doctor, friends, family, senior community and other senior organizations to recommend someone. Just like having a private employer, you will be in charge of paying their salary, insurance, and taxes, firing, and screening them.
Things you may want to consider when hiring privately include:
Their credentials
If they are eligible to work in the country. Most tend to be foreigners
Their previous experience- always contact their references just to be certain
The best thing about hiring privately is that you get to choose whom you want to care for your loved one. There is also flexibility in the tasks to be performed and the possibility of building a long term relationship with the attendant. The downside is that if they miss reporting to work for one reason or another, you are left stranded.
Conclusion
We are hoping by now, your mind is made up, hopefully, to get an in-home caregiver. As mentioned earlier, there are many benefits of you engaging an in-home attendant but above all the peace of mind that comes with knowing that your loved one is being taken care of perfectly even in your absence. Of course at a cost, but well, the cost is insignificant at this point.  If you consider otherwise, then it's still fine. At least you now know how to tell when its time and how to go about the whole process.