As you age it is pretty normal to lose interest in cooking. It just stops being something you look forward to. The joy of cooking is seeing people enjoying your food, and having spent most of your years cooking for your family it becomes less exciting cooking just for you. Other seniors don't find cooking tedious but they are limited because of their health, physical and mobility challenges. So what do you do in such cases because you still have to eat to stay healthy and strong?
Meal delivery services are the best option.
Meal delivery services ensure that you get healthy meals albeit at a cost. These services vary, there are some that deliver ready to eat foods and others deliver ready to cook meal kits. Whichever option you choose, the end goal is to be able to have a meal every day that meets your nutritional requirements as a senior. Speaking of, let's first look at what your nutritional needs are as a senior. This will guide you in selecting the right foods and ultimately the right delivery service.
Nutritional needs for seniors
As you age, your nutritional needs also change. You will find that you won't need as many calories as you did before your golden years but will need more calcium instead. Your taste becomes blunt, appetite declines, chewing and swallowing becomes tedious and your body becomes unable to efficiently digest and absorb certain nutrients. This is why you need to be very keen on what you take in, it must be very nutritious. Here's what you should eat more:
Proteins
Nutritionists recommend that your daily protein intake be 3.6 oz per pound (102 g per kg)  of your total body weight. This, however, is for seniors with no kidney and diabetes conditions. If you have either of these two conditions, your daily protein intake should be less than a gram per pound of your daily intake.Good sources of proteins include chicken, lean meat, seafood, variety of beans, eggs, and nuts.
Calcium
You need calcium in high quantities to strengthen your aging bones and prevent your bones from wear and tear that comes naturally as you age. Good sources of calcium include whole dairy milk, cheese, yogurt, soymilk, sardines, and salmons.
Fiber
As you hit your golden years, you will find that you constipate more. This is because your metabolism has slowed down. To deal with this you need to eat foods rich in fiber to ease your bowel movement. Good sources of fiber include vegetables like okra, whole grain meals, and fruits like pawpaw and avocado. A lot of water also helps a great deal with constipation.
Fruits and vegetables
For healthy aging, five to seven servings of fruits and vegetables every day is recommended. Try to have a variety of both as much as possible. The color of fruits and vegetables also matters, the dark green vegetables, for instance, have a higher level of antioxidants which help in fighting diseases and infections. The red to orange ones contain beta-carotene which is said to prevent cancer.
Vitamin D
You need to spend at least one hour out in the sun every day to get natural vitamin D but if you have mobility challenges or your health can not allow you to go outdoors, you can get it from oily fish types such as tuna, eggs, cheese and dairy products such as butter. Medical experts have found that your skin becomes less efficient in absorbing the vitamin from direct sunlight as you age. So you can also use Vitamin D supplements along with the recommended foods to boost your level of the vitamin.
Healthy fats and oils
Nuts are very good sources of healthy fats and there are different types. Peanuts, macadamia, hazelnuts, cashew nuts, almonds, and walnuts are just some of the easily available types. You can also substitute nuts with avocados, some vegetables, and seeds. For oils, natural is the way to go. Get either coconut oil, extra virgin olive oil, sunflower oil or canola oil. Healthy fats and oils are great for your heart.
Drink plenty of fluids
Thirst should not be a cue that your body needs hydration. You should keep your body hydrated throughout the day to aid in digestion among other body functions. Take lots of water, fresh juices, tea and coffee in moderation and any other fluid you enjoy taking.
What do you need to limit?
When you were younger, there were foods that you loved and would take in plenty and that was fine then. However, now, you need to limit those foods and drinks as they can expose you to a whole host of old-age diseases. Hypertension, diabetes, kidney diseases, and obesity are all preventable with the right nutrition. Having said that, you will need to limit the following:
Salt or sodium intake
Sugar intake. Look for alternatives such as honey, fruit concentrate, agave nectar, and other natural sweeteners.
Alcohol
Your portions. Exercise portion control to avoid weight gain
Solids fats. Do more of natural oils instead
Junk. If possible keep away from eating out and make your food at home
Processed foods and cereals
Vitamin B12
As you age, it becomes very hard for your body to absorb Vitamin B12 that is why you need to include it in your diet every single day so that the little that is absorbed every day is enough. If you suspect that you are not getting enough Vitamin B12, ask your doctor to prescribe a supplement for you. Good sources of Vitamin B12 include lean meat, seafood, and fortified cereals. We cannot insist any more the importance of proper nutrition for your aging body. If you have no idea how to mix all these to get the right amount of nutrients every day,  divide your plate as below to find the right proportion:
50 % of the plate to contain fruits and vegetables,
25 % of the plate to contain grains (mostly whole grains),
25 % of the plate to contain protein-rich foods,
3 glasses of fat-free or low-fat dairy products such as milk, and yogurt.
If you prefer to measure your food instead, use these servings as your daily guideline:
2 to 3 cups of vegetables,
1 ½ to 2 cups of fruits,
5 to 6 ounces of protein-rich foods,
5 to 7 teaspoons of oil when cooking,
A handful of nuts,
8 ounces of whole grains,
3 cups (fat-free or low-fat milk or yogurt).
Easy grocery shopping for seniors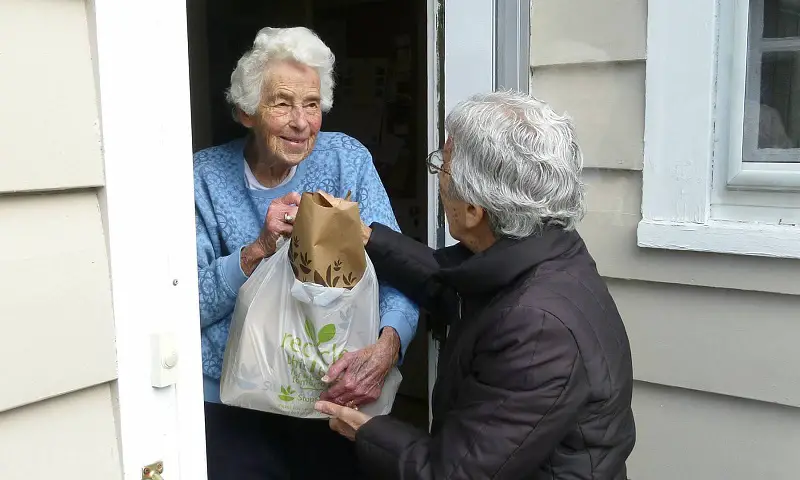 You certainly do not have the same energy you used to have to hop from one store to the other looking for groceries and we understand that. That is why we are giving you a better option to do your grocery shopping; online grocery shopping. Online grocery shopping is pretty simple and straight forward and is the best shopping alternative for seniors with mobility issues. The first thing you want to do is create a shopping list. Remember to include foods with the nutrients we just listed above. It is not just about shopping but shopping for what is of nutritional value to you. This is an example of how your grocery list should be.
Whole grain cereals
Pasta or rice
Whole grain bread
Milk
Eggs
Whole wheat flour
The low-sodium sauce in a jar
Fresh salads
Fresh or frozen vegetables or fruit
Almonds, peanuts or cashews, in single-serve packets
 Dried fruits
Green juice
Sliced chicken
Sliced cheese
Cans of low-sodium soup
Fruits- dried, fresh or frozen
Baby carrots
Canned salmon or tuna
Frozen or bottled 100% juice
Once you have your grocery list ready. Log in to the online store website, browse through to select your items then make an order and make payment. You can then choose to pick up your order from an appointed location which will be communicated to by the store's agent. If you cannot manage to go pick your order, there are delivery services that can pick the order for you, deliver and even go ahead and unpack as well as put them away for you. Very efficient and very reliable services. All that will cost you about $ 10. So for only $10 and a couple of minutes to browse through and order your groceries, you have a whole week's groceries. You only now need to prepare your meals.
Another great option is having a personal shopper do the grocery run for you. YOu can find them in sites such as Instacart, Shipt, and Peapod. Just log in to their site, submit your shopping list and a shopper will be assigned to your order. They will then deliver your groceries, unpack and put away. Their charges are very reasonable by the way, they cost about $ 14 monthly for basic grocery shopping services.
Why consider a meal delivery service?
There are a number of occasions where meal delivery services become the best option as you age. Some of these reasons include:
Ensuring proper nutrition. When preparing food becomes such a tedious task it is easy to turn to store-bought packaged foods which are usually not healthy options. Meal delivery services provide very healthy meals to ensure that you get the nutrition you need.
Maintaining safety. Safety is a great concern for seniors who have certain chronic diseases like dementia, Alzheimer's, and others. It is very unsafe for these groups of people to work on a hot stove, stand for too long preparing meals, handle sharp objects to cut and chop or lift heavy groceries.
Time management. Meal preparation requires you to set aside a couple of hours every day. This can become super hard for a caregiver or a loved one to manage and so having a meal delivery arranged makes it easier for them. It also gives them peace of mind knowing that as they go about their busy lives, you have a meal every day.
Customized diets. Meal delivery service providers can tailor your diets to whatever specifications you give them. If you want it tailored around your allergies, taste, health conditions, you just make a request. For instance, if you are a diabetic, then you can order a diabetic diet.
Affordability. Well, this is obviously because of economies of scale. Since they cater to a large number of seniors, they also sell their meals at a very affordable cost. This is way cheaper than eating or ordering food from restaurants.
Companionship. Some meal delivery services make a point of checking up on you as they deliver your meals. This can mean a whole lot if you hardly have anyone come to your house for days.
Tasty meals. There is something about eating food prepared by someone else, the food always seems tasty and you find that you eat so well unlike if you had cooked for yourself.
Benefits of food services for the elderly
The best benefit of having meal delivery services for seniors is the fact that you get nutritious food made from fresh ingredients. The food is delivered very fresh, hot or frozen. This can be very convenient for someone who is housebound due to health reasons, has limited mobility or unable to cook for themselves for other reasons.
Meal programs for seniors also help seniors who might have otherwise slept hungry because they can't afford a meal. This may come as a shock to you, but 1 in every 7 seniors sleep hungry at some point and an estimated 4 million are malnourished in the U.S. as of today according to estimations by the National Foundation to End Senior Hunger.
Meal delivery services also give a senior some level of interaction. Being able to be in the company of other seniors or having someone stop by as they deliver or come to make your meal is very good for your social health.
Choosing a meal delivery service
Even with the few options available, you may still find it difficult to settle on one. To help you make the right decision, ask yourself these questions:
How much can you afford to set aside for your meals every month? Can you comfortably afford it?
Do you have any special dietary requirements? If you do, a community program may not be able to cater to your needs and so you will have to use other options.
Are you mobile enough to go out and get yourself a meal or you would need to have the meal delivered to you?
Are you able to chew and swallow or you would need very soft foods that don't require a lot of chewing?
Can you feed yourself or you would need someone to deliver and assist you in feeding
With answers to all these questions, you should be able to narrow down your options and select one that is convenient for you.
Meal delivery options for seniors

Ready to cook delivery services
If you still want to be able to cook your meals but are unable to move around looking for ingredients and coming up with recipes, some companies that deliver ready to cook foods. The biggest chunk of the work is usually done for you as the companies prepare a menu, come up with recipes, assemble ingredients and measure them. You only need to follow the recipe provided and whip up your meal, serve and enjoy. You can always cancel the services any time or ask them to hold off for a while for those days that you are not at home. Here are some of the best companies to get ready to cook services from:
Blue Apron
Blue Apron has meal plans that start from as low as $9.99. This is for up to 3 recipes a week. The meal kits are for two or more people and can be customized to suit your dietary requirements. You should note however that Blue Apron may not be your best option if you have any food allergies. Before placing an order, ring them up to confirm if this is still the case or check from their website.
Green Chef
Green Chef has the simplest meals to cook. They claim the meals take 30 minutes at most to cook which is definitely what you would want if spending time in the kitchen is not your forte. They use purely organic ingredients to prepare the meal kits and each kit costs about $13. Green Chef has seven meal plan types that you can choose from and cater to both vegetarians and meat lovers.
Sun Basket
Just like Green Chef, Sun Basket uses 100% organic ingredients to prepare their meals. The best thing with them is that they will always notify you if they don't have certain organic ingredients needed to prepare your meal kit. They also customize meal kits to your dietary requirements. So if you can only take gluten-free or dairy-free meals, then that will be put into consideration.
Hello Fresh
Hello Fresh prepares meal kits for two or more and have them delivered to your doorstep every night. Each kit will have nutritional information on it so that you know what you are getting from the meal. Their prepared meal plans start from $8.99 and are delivered in insulated liners to keep everything in the best state.
Ready to eat senior-focused meal delivery
These are companies that deliver ready to eat meal kits. Their menus are created by dietitians and meals prepared by professional chefs to cater to their senior's dietary requirements. Their ready to eat meals are pretty affordable as well, they range between $ 5-$ 15. Here are the best ready to eat meal delivery services going by their positive reviews:
Silver Cuisine by bistroMD
Silver Cuisine is popular for their chef-prepared meals and snacks. The meals are delivered frozen so you will only have to heat it up. You can freeze the meals for as long as up to one year so if you can, order them in large quantities. It's cheaper that way. A meal costs between $8 to $14 but the shipment can run up to $20 per meal but if you order more then shipping costs become negligible. They have a variety of meals to choose from; regular meals, gluten-free, low-sodium and diabetic meals. Silver Cuisine delivers food in every state in the U.S. except in Hawaii and Alaska.
Magic Kitchen
Magic Kitchen prides itself on preparing healthy low sodium meals. Their menus are also created by dieticians and prepared by chefs. The meals cost between $5-$15 per meal for a single person and between $75 and $85 for a whole week's meal. You can choose one main meal and either one or two side dishes. Delivery is done to your doorstep and all you gotta do is warm your food in the microwave or oven
Low-cost meal delivery options for seniors
Senior community centers
In every state, there are aging centers that take care of the senior's welfare in every community. Most of these centers also provide meals for free or at a very minimal cost. They prepare fresh healthy meals and serve a variety of options to meet the nutritional requirements of seniors. If you are still mobile, you can take a walk to the nearest aging center and have a meal in the company of other seniors. It's a great way to find companionship and to fill your stomach with a healthy meal as well. A perfect plan for those days you don't feel like cooking. The only challenge with senior centers is that you don't get to choose what to eat, their menu is already picked out. If you prefer to have customized menus or have a preference for specific diets, you might have to consider other options.
Meals on Wheels
Meals on Wheels is a countrywide meal program for seniors and is designed to provide them with nutritious meals. They also have volunteers who pop in to check out on seniors who are not mobile. You can either go to Meals on Wheels center near you and get your hot plate of food at little to no cost or have a volunteer bring to your home if you have mobility difficulties. Meals on Wheels programs are spread all over the state and you will often find them in aging community centers. To find one near you, you can ring up your area senior center.
Supplemental Nutrition Assistance (SNAP)
This is a government-funded food program to cut down on the number of seniors who can't access decent food or food at all because of financial and physical constraints. To be eligible for the program, you must be 60 and above. Other key requirements for eligibility include your monthly income. You can apply using their online portal then make a trip to their office. Once, approved, you will be given a preloaded debit card that you can use to buy groceries such as bread, meat, chicken cereals, vegetables, fruits, fish, poultry and dairy products.
Other best alternatives to meal delivery
If you are not for the idea of meal delivery services, you can opt for meal prep parties if you have a few of your senior friends around. So how does this work?
Meal prep parties
Well, you get a few of your senior friends and you all come up with say a week's menu and recipes. You then contribute the amount needed and one of you goes for grocery shopping. You can take turns on who is hosting or doing the grocery run. On the day you decide to cook, everyone comes with a container or freezer bag to pack their share of the food cooked. This a fun way to get your week's meals cooked all in one day and a perfect way to bond too. Talk of soul food in your golden years.
Personal chefs
If you are not constrained financially, you can opt to hire a personal chef to come to your house and cook for you. You can make arrangements for them to cook batches of meals for a week or even 2 weeks. You can have them portioned for daily meals and yours will just be to warm and eat. The best thing about hiring a personal chef is that you get food customized to your taste preferences and dietary requirements. You can even give suggestions on how you want the food cooked. And you can be sure that the food is fresh and healthy.
Tips to help you eat well
As mentioned earlier, appetite for most seniors slows down with age so even with food delivered to you hot and fresh, you might find that you are not eating well. Follow these tips to help you meet your daily required intake:
  Eat small quantities but more often. Make sure you eat something every three hours. According to Kim Larson from Total Health in Seattle who is also the spokesperson of the Academy of Nutrition and Dietetics, eating regularly keeps your appetite in check and prevents you from overeating.
  Spice up your food, sprinkle some seasonings and add some herbs to improve on the taste of food. This will make you want to eat more.
  Develop a mealtime routine where you take your meals at the same time every day. This will automatically alert your body to feel hungry whenever mealtime approaches.
Conclusion
It is quite unfortunate that a very big number of seniors in the U.S. are not able to access decent meals and as such suffer from malnutrition. While a bigger number is limited by finances, the rest do not know where or how to get meals or even groceries delivered to them as they can no longer move around. We have attempted to give you all the possible options out there both low cost and "high" cost. In addition, we have outlined a simple guide on how to select meal delivery services to further help you select the best option for you. The best thing about these delivery services is that you can always opt-out or put a pause when you need to. So if you find that you are well enough to start cooking for yourself once again, simply cancel the services. With such handy and easy to access services, no elderly Americans should sleep hungry.