According to the World Health Organization, an estimated 52 million people die annually. Of these, a significant percentage dies suffering from pain and symptoms, directly or indirectly related to their condition, which could have well been eased or alleviated. These include people that die of conditions like cancer, AIDS, and others that may benefit from palliative care. In the World Health Organization 1990 declaration and the Barcelona 1996 declaration advocated for an inclusion of palliative care in every country's health system stating that every person suffering from an active, progressive, or far-advanced illness has the right for palliative care from those involved in their treatment and others and the right to die in a place that they have preferred.
What is palliative care?
When your loved one has been diagnosed with a serious illness like heart failure, cancer, Parkinson's disease, dementia, Kidney disease, lung disease, or others, palliative care becomes necessary. This is because the effects of the treatment process can be draining and downright stressful. Palliative care definition is care that is aimed at improving the quality of life of an individual right from the diagnosis stage of a serious illness through its treatment.
As they go through palliative care in hospital or other institutions, patients will
Get a relief from symptoms of the illness being treated
Get a clear understanding of their treatment options and be a part of sober decision making
Get emotional support
Get dietary support
Get social and physical support
A team of healthcare providers steps in to work together with the patients, their support system, and their doctors through treatment. This team may include:
Specialist doctors
Nurses
Psychologists
Social workers
Nutritionists or dietitians
Chaplains
The above team will provide palliative care anywhere from the hospital, palliative care clinic, nursing home, hospice facility, or at home provided the environment has been set to accommodate the ailing patient.
What is hospice care?
Hospice care, also known as end-of-life care, resembles palliative care, meaning that it is aimed at improving the quality of life, creating comfort, and a support system for a patient and can also be provided in the home, hospital, clinics, or hospices following palliative care guidelines.
The difference, however, is that hospice care is given to patients to whom treatment towards an illness has been stopped because it is deemed to be no longer viable. Usually, a patient will have a lifespan of 6 months and most likely be transitioning from palliative care.
A patient could still retain the same team he/she had during palliative care to manage his/her illness symptoms in order to remain as comfortable as is practically possible, but without any form of curative treatment. Hospice focuses mainly on care and quality of life.
Under hospice care, the following services are available
As mentioned above, pain and symptom management
Short hospital inpatient services in case pain and symptoms get worse
Regular visits to the patient by the hospice care team
Provision of medical equipment, drugs, or any other medical supplies needed by the patient
Guidance on caring for the patient
Respite care
Physical, emotional, and spiritual support
Dietary or nutritional services
Therapy both physical and occupational
Support to the family and caregiver after the death of their loved one
Palliative care vs. hospice care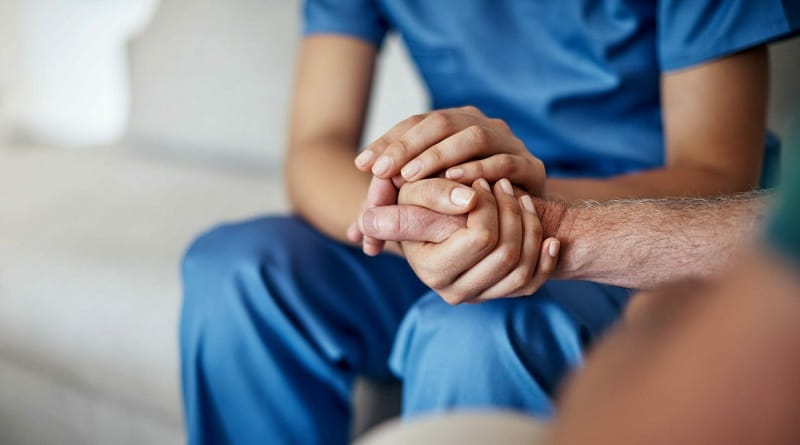 Palliative care and hospice care have both differences and similarities.
Similarities
Both are geared towards relieving pain and symptoms resulting from a patient's illness as much as possible.
Medicare, Medicaid, and other insurance plans may cover both palliative and hospice patients based on their particular plans. However, Medicare will cover all hospice charges.
Both hospice and palliative care can be provided at home and in institutions of care such as the hospital, nursing home, clinics, or in assisted living facilities.
Differences
While palliative care is given from the point of diagnosis of illness alongside treatment to relieve pain and symptoms, hospice care will be given for the same reasons but without curative treatment since every effort to treat will have been exhausted and the patient given a life prognosis of 6 months.
Medicare will cover all the cost incurred during hospice care but will only cover palliative care cost based on a patient's treatment plan. Private insurance, on the other hand, will cater to the cost depending on a patient's plan.
How to start the conversation around care?
It is important to have a discussion with older people about end-of-life care to get to know their desire in what is known as advance care planning. This entails weighing available options together with the palliative care team, making an informed personal choice, and communicating or documenting it in advance. This way, the team will come up with a treatment plan that goes along with a patient's preferences. Where a patient is fully involved, there is a better response to palliative care, hence an improved quality of life.
However, getting around to having such a discussion has always been seen as very challenging as there is a likelihood of one feeling as if they have been placed too close to death. On the other hand, getting the care that does not go along with a patient's desire is even more frustrating.
We shall be giving some valuable tips on starting this conversation but before then, here are some don'ts.
Do not wait for a crisis or an emergency situation to have this conversation.
On the other hand, do not force a patient to have a conversation when they do not feel like it. This will only amount to resentment.
Sometimes due to their condition, a patient may not be in the best position to make a decision. In this case, it is prudent to seek the intervention of a hospice care specialist.
Check out more end-of-life care information and options in the following video:
https://www.youtube.com/watch?v=b3DRdtSAHrY
What should you do?
As you interact with them, be keen on cues that will give you an opportunity to start the conversation. For instance, they could mention something about their frustration about their condition. Here give them an opportunity to talk more about it as you ask leading questions. Seek to understand what they really want because then, you will have a clue about their end of life wish.
Pick a time, for example during the holiday or a get together when most people are present so that everyone gets to know about these preferences so there will be no misunderstanding as time goes by.
Other people may be comfortable writing or recording their preferences, while others find it better to talk about it, not with their close circles but with the healthcare provider. If this is so, facilitate this process and help them have their wish honored.
Ultimately, the most important thing is passing this information to the right people. Secondly, there could be a change of mind later in the course of their care plan and this is allowed.
Here are 5 points that could help you bring up a conversation about the end-of-life care plan of your loved one
While it may be difficult discussing death with a loved one, some questions like the ones below will help a patient not only make a sober decision but also show them that you are genuinely concerned about their end-of-life comfort.
Ask them what the most important aspect of their life is especially during the remaining days
Is it worth trying every possible means to find a cure to their condition
What important things would they want to entrust and to whom before death
Who they wish was present at their deathbed.
Which place would they prefer to be at the point of death?
Planning for end-of-life care
Here is a simple guideline to be followed when planning an end-of-life care plan:
Deciding the care plan that is needed.
Deciding the place, for instance, a patient may opt to have palliative care at home. Weigh in hospice vs hospital vs home care options with them and find out what they prefer.
Talking about it with healthcare providers, family, close friends, and caregiver.
Decide who will be entrusted with medical treatment decision making.
Putting down wishes in writing as a directive.
Communicating advance care directives to those who are involved with the patient's life.
Reviewing the directive from time to time depending on the progress of a patient's condition.
Making any special wish about death and funeral known to those close.
Breaking down palliative/hospice care cover
Palliative care is covered by both Medicare and Medicaid as well as by other private insurance. Veterans can be eligible for palliative care under the Department of Veterans Affairs while families of the military may be eligible under the Tricare program.
However, the extent that the cover will apply varies from insurance to insurance. For instance, Medicare will cover the entire cost of hospice services. It is therefore very important to verify the details of your insurance cover for your situation.
Payment options include:
Medicare Hospice Benefits
Medicaid Hospice benefits
Private insurance
Department of Veterans Affairs program for the veterans
Tricare program for military families
Self-pay
Charity care
Medicare Hospice Benefits
Medicare covers nearly all hospices in the United States save for about 10%. This means that beneficiaries will not have trouble finding one near them. As statistics have it, more than 80% of those under hospice care are aged 65 years and above and so qualify for Medicare Hospice benefits.
Both beneficiaries of Medicare and Medicare Advantage Plan have the same hospice Medicare benefits. Apart from the comprehensive benefits that patients receive under the Medicare Hospice Care program, their loved ones, family, or caregivers are also eligible for some services under this program.
Medicare Hospice Benefit plan will cater to the patient's condition and other conditions that arise as a result as determined by a medical doctor in the hospice. Others will be covered by the Medicare plan a patient was using prior to the Medicare Hospice plan.
Eligibility for Medicare Hospice Benefit
To be a beneficiary of Medicare Hospice Benefits,
One needs to have qualified under Medicare Part A.
Both your doctor and the medical director at the hospice should certify that one is suffering from a life-limiting condition and has a life prognosis of 6 months if this condition runs as is expected.
One needs to consent to undergo hospice care during the time, rather than their condition's normal medical care.
Hospice care will be received in Medicare-approved program.
What does Medicare Hospice Benefit cover?
Most services and costs under hospice palliative care are covered by the Medicare Hospice Benefit plan including:
Services by specialist doctors
Nursing care
Social work
Therapy including occupational, physical, and speech
Medical equipment like walkers
Medical supplies like catheters
Pain and symptom relief medication
Diet and nutrition services
Home caregiver services
Short inpatient services in medical institutions
Respite services
Emergency pain
After death support
The following services are not covered by Medicare Hospice Benefits
Treatment aimed at curing one's illness
Cost towards medication other than hospice or associated illnesses. The hospice team will liaise with the doctor and advise about the specific medication and drugs covered and those that the Medicare Hospice Medical Plan does not cover.
Services provided by a different hospice or institution other than the one elected unless approved by the hospice team.
Nursing home accommodation (This is covered by Medicaid)
Hourly care offered at home
Beyond the expected
There are instances where things may not happen as
When one's health improves or stabilizes This may justify the discontinuation and discharge from hospice care in which case a patient will resume the previous Medicare cover.
When a patient's health does not improve but still goes beyond the 6-month hospice care period. Ideally, hospice care is specified in periods. Two periods each going for 90 days thereafter periods of 60 days as long as the patient is still eligible for hospice care.
When a patient decides that they no longer need hospice care for some reason e.g. being part of a clinical study. The patient will be discharged from hospice care but remain under the previous medical cover. Again you are allowed to resume hospice care later if you will still be eligible.
Myths around hospice care
Agreeing to hospice care is giving up the hope of ever recovering
Hospice care is really just care aimed at improving the quality of life of a patient during days that they have to live. It has got nothing to do with hope or failing hope. On the contrary, it is in the best interest of a patient to live well and comfortably.
Consenting to hospice care means accepting death
As we have seen above, hospice philosophy maintains that care should be aimed at improving the quality of life of a patient. Some patients, under good care, end up living beyond the 6-month period compared with those who do not receive hospice care. Others still improve so much as to be discharged from hospice care.
Hospice is a place of abandonment
Patients, with the help of their care team, usually have the freedom to choose where they want to receive hospice care. Being at the hospice house does not mean that one has been left to die. Rather, it could be the place where they will be best taken care of. This is the reason why they have a choice to receive hospice care at home or in an assisted facility depending on their specialist team's recommendation.
Hospices are mostly for cancer patients
At the onset, the hospice concept addressed mostly cancer patient. Today, even though a good percentage of hospice patients are cancer patients, others with life-limiting illnesses like Alzheimer's, end-stage lung, kidney, and heart disease stay in hospices in order to receive the best care.
Opting for hospice care means giving up other medical care
While you will have a multidisciplinary team of specialists taking care of you under hospice care, this does not limit you seeking other medical services for conditions not related to your illness.
Conclusion
The last days of a loved one can be grueling and emotionally draining especially when their systems begin to shut down and death becomes a reality. While it is almost impossible, it is important to keep calm and stay strong for the sake of the patient. The patient needs reassurance, more than anything that it is okay to die. Secondly, the caregivers and family will need a support system then and after to cope with the loss and this should have been planned in advance. Finally, it will be time to reconnect and move on with life.