Oftentimes, the difference between how a senior envisions to spend his/her golden years and the reality is information. With the right information, one is equipped to plan well for the future ahead.  As such, there is a wealth of information that one can take advantage of to make crucial decisions in their lives. However, in this era, it is also possible to come across misleading information.
This article compiles some invaluable resources on senior living which will help you make informed choices around any aspect of senior living. You are entitled to a comfortable independent life within your community. Whether you are looking for information on housing options, tax and financing information or assistance, healthcare assistance, or just a platform to network with your peers, this article gives you just the resource that you need to make your next move.
Here are 15 valuable resources for senior living.
Founded: 1958
Referring to The American Association of Retired Persons, AARP is a not for profit organization that serves as an information hub for all matters aging.  It targets seniors who are 50 years old and above and features information on health, work after 50, fun activities, family and friends, entertainment, books, food, politics, and much more.
AARP's mission is to empower seniors with information.  AARP attracts professionals who offer their expertise towards empowering seniors.
AARP has a foundation to its name, AARP Foundation whose noble cause exists to help low-income seniors with their basic needs.
Interesting facts: AARP membership stood at more than 38 million and its publication is the largest in circulation in the US.
Founded: 1974
AAA stands for Area Agencies on Aging whose focus is on helping seniors of 60 years and above and the disabled live a quality, dignified and independent life in their homes and communities. AAAs is, in reality, a network of 620 agencies spread across all the states in America.
AAAs focuses on offering resources, information, and services around such areas as nutrition, health, and wellness, resources for caregivers, transportation, advocacy, insurance counseling, and other supportive services.
AAAs, apart from working with individuals directly, also partners with service providers and other organizations to promote programs and causes that benefit the elderly and the disabled.
Interesting facts: 85 % of Agencies under AAAs have collaborated with transport organizations and another 85 % adult protection service providers.
Founded: 1950
The National Council of Aging was the first nonprofit organization started to defend the cause of seniors. It has brought together over 3500 individuals and organizations in an association that focuses on the physical and financial health of American seniors aged 60 years and above. Members include faith-based organizations, aging agencies, health care providers, senior housing providers, employers, foodservice organizations, and organizations for seniors.
The NCOA goal areas are health and insurance (including Medicare and Medicaid), economic security, social security protection, and the Older Americans Act.
NCOA is the force behind innovative initiatives like BenefitsCheckup, Foster Grandparents and Family Friends, all of which are aimed at supporting seniors.
Interesting Facts: The NCOA has partnered with more than 17,000 other individuals and organizations including government agencies to push its agenda.
Founded: 1974
The National Institute on Aging (NIA) is a research-based organization that seeks to unearth valuable information through research. Its focus is on the health and well-being of the elderly. Seniors will find valuable information on the aging topic as well as health topics that touch on seniors. These topics, from its mission, including the aging process, diseases related to old age, and needs and problems faced by the aged.
NIA has to its name, the GO4Life initiative, a program that empowers seniors aged 50 years and above with practical health and fitness activities which they can comfortably perform from the comfort of their homes.
Interesting Facts: in 2009, NIA collaborated with HBO Documentary Films to produce the award-winning film series on Alzheimer's disease.
Founded:  1991
The Eldercare Locator is a resource center. This website offers a platform through which the elderly, their families, and caregivers connect with the state, local area agencies, community-based organizations, and a range of service providers who offer information, care management services, transportation, nutrition, legal help, and other forms of assistance. It is the only nationally funded information source on matters affecting American seniors.
This website offers seniors valuable information and support on a wide range of matters to help them live independently and comfortably within their communities. It is also a great source of support and information to caregivers, family, friends, and loved ones of elderly people.
Interesting Facts: The Eldercare call center receives almost 300,000 inquiries yearly on a wide range of issues including health and wellness, housing, transportation, community-based services, home care services, home repair and modification services, benefits eligibility, low-income earners assistance and many more. In addition, it is also a source of information for certified information specialists.
Founded: 1972
PACE is all about care for the seniors. Be it in-house care, medical care, medication management assistance, or personal care. It is a form of medical coverage that targets seniors who are aged 55 years and above who qualify for nursing-home care. It is the place where seniors, who may not want to move to a nursing or an assisted living facility, turn to.
PACE offers services like primary and specialized healthcare, occupational therapy, physical and speech therapy, social services, rehabilitation, home-care, nursing and pharmaceutical services among other medical-related services.
Interesting fact: Currently, there are more than 230 PACE centers operating in 31 states. The largest PACE program has enrolled 2,500 seniors.
Founded: 1954
Meals on Wheels core service is food and nutrition for seniors. It has a well-established network across America and works with more than 5,000 community programs whose aim is to support seniors in matters of food and nutrition.
Meals on wheels funds community programs and conduct leadership training, carry out research and supports advocacy programs in line with the provision of nutrition services, meals, and checks to seniors.
Interesting facts: Meals on Wheels delivered up to 219 million meals with only 3 % of its funding coming from the Federal government. Most of its funding, up to 68 %, comes from corporate and foundation grants and most of it goes into food purchase. This has been made possible with over 2 million volunteers who have saved the organization a big chunk of operational costs.
Founded: 1974
Among the main aims of the Legal Services Corporation is offering financial and civil legal support to low-income people, seniors included.
This independent nonprofit organization funds 133 non-profit legal aid programs in all the states, 813 offices in every congressional district and serves families, seniors, children, and individuals on the low-income bracket. The qualification for LSC legal assistance if for individuals or households to have an annual income below 125 % based on the federal poverty guidelines. However, the extent to which such support is offered varies from state to state.
Interesting facts: LSC has served more than 1.7 million people most of them, at 72 %, being women.
Founded: 1989
The U.S Veterans Benefits Administration supports those who have served in the military along with their families to access their benefits and services that have proved hard to access. Such benefits include pension, healthcare, disability benefits, social security, unemployment benefits, and other specific benefits.
There are Veteran Administration centers spread across the country which veterans or their families can visit to get assistance. This information is available on the U.S Veterans Benefits Administration website.
Founded: 1997
The Health Finder website was started with the aim of being a one-stop source of information on health matters and help families stay healthy. It is a service operated under the U.S Department of Health and Human Services. Some of the things you'll find on this website include preventative services, wellness, dates on the National Health calendar, health quizzes, and toolkits.
It offers valuable information, in both English and Spanish languages, by providing links to around 1,400
Health websites
Support and self-help groups
Government agencies
Non-profit organizations
Interesting facts: Healthfinder won the ClearMark award for being the best public sector website with plain language.
Founded: 1986
SeniorNet's mission is to provide seniors over 55 with computer and technology education and equip veterans, the disabled, and the underserved with computer skills. Seniors can, in turn, give back to the community by sharing the knowledge and skills they receive to improve the lives of others. SeniorNet has attracted 3,100 volunteers and 8,000 members who are part of its vibrant online communities.
SeniorNet has collaborated with the likes of Microsoft, AT&T, TechSoup, Bureau of Indian Affairs, and IBM to develop the curriculums currently being used in the learning centers to coach beneficiaries and provide software grants.
Interesting facts: SeniorNet has equipped over 2.5 million deserving students with a computer, internet, and technology skills and opening them up to a world of opportunities in the process.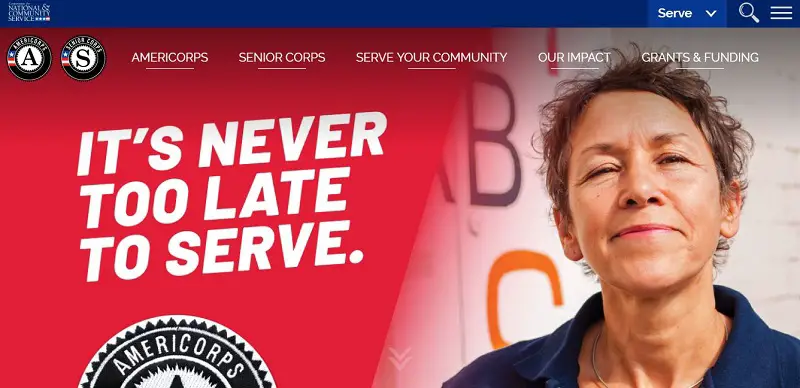 Founded: 1990
The Corporation for National and Community Service was formed under the U.S Federal Government to promote a culture of service to humanity. This agency has so far registered over 5 million Americans through its arms AmeriCorps, SeniorCorps, Learn and Serve America, and other programs.
CNCS promotes causes like poverty eradication, environment conservation, and education among others.
Interesting facts: CNCS is the largest supporter of service and volunteering through grants.
Founded: 1995
RetireNet is a hub for adult communities including Assisted Living, Independent Living, Nursing care, Home Care, and Home Community Based Retirement Services. This website is both a network platform and a source of information on matters related to senior living. It boasts of a membership of more than 55 communities giving seniors a wide option and empowering them to make an informed choice about where and how to spend their sunset years.
Founded: 1998
The Retirement Living website features a listing of adult communities, assisted living communities, independent living communities, nursing care facilities, continuing care retirement communities, in-home care service providers, and Alzheimer's care facilities. Its mission is to help seniors make an informed decision about where to spend their retirement lives.
Other information available in this site includes buyer guides for product and services for senior living and insight on retirement planning.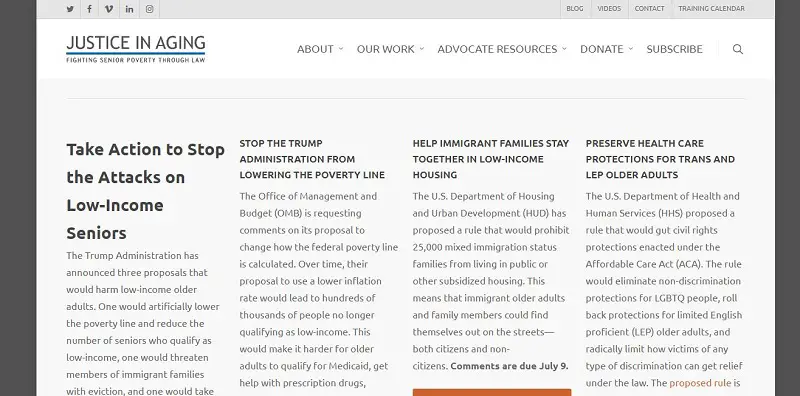 Founded: 1972
Justice in Aging is a national organization whose mission is to fight senior poverty by advocating for affordable healthcare and economic stability as well as support with court processes for those with limited resources. This is with the aim of according them an opportunity to live a dignified life in their communities.
Justice in aging main focus is on marginalized groups like women, LGBTQ (lesbian, gay, bisexual, transgender, transsexual and queer) and others.
Interesting facts: Justice in aging is among the oldest of such organizations having celebrated its 46th Anniversary
Conclusion
Living comfortably and independently during your sunset years is certainly worth it. You can achieve this by equipping yourself and your loved ones with the resources that will help you make informed choices. We hope that the resources we have provided herein will be helpful during your planning and when you will finally settle down to enjoying your life.