As numbers would have it, about 30.7 % of volunteers in the United States were baby boomers. These people volunteered an estimated 2.2 billion hours of service which translates to around $54.3 billion in finances. This was according to a report by The Corporation for National Community Service (CNCS).
Just as people find purpose and satisfaction in being involved with things that they value, seniors also find fulfillment in volunteering. A study done by Nicole Anderson, whose findings were presented at the International Association of Gerontology and Geriatrics on seniors who volunteered, established that seniors who volunteered weekly for 3-4 hours had a significant improvement in their cognitive function. Not just this. Volunteering, for most, has had a positive effect on their physical and emotional capacities.
Why should seniors volunteer?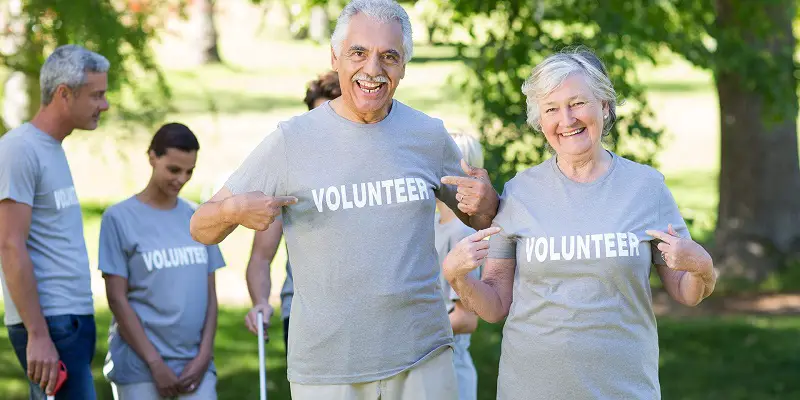 The elderly are today a healthy lot with a longer life expectancy. This means that after retirement, they have more free time available to them to be involved with volunteering. Volunteering comes with a number of benefits for seniors.
A sense of purpose and satisfaction. Aging has often been linked to loss, decline, ill health, and degeneration among other things even though this is far from the truth. Seniors who volunteer have succeeded in distancing themselves from such misconceptions. Volunteering allows them to age productively and to remain fulfilled during their sunset years.
Offers a way of countering anxiety and depression. As they age, seniors often feel isolated and lonely. This affects them emotionally and increases the risk of going into depression. Volunteering helps stave off stress, anxiety, and depression through social engagement and interaction. Based on a report by CNCS, 66% of Senior Corps volunteers experienced a decrease in feelings of isolation while another 67% of those who initially felt lonely experienced improved social connection.
Social engagement. Life is about relationships and volunteering is just one way through which seniors form and maintain healthy relationships. Above, we have seen the benefits of social connections. Seniors have more to gain from the social networks that they form during volunteering. These networks also double as support groups in other fronts.
Helps seniors to be physically active. Physical fitness is a way for seniors to remain healthy, preventing diseases associated with old age like high blood pressure.
Enhanced cognitive function. Mental health for the aging population is a big concern. Volunteering helps one to maintain an active brain which in turn enhances cognitive function. Overall, seniors who volunteer lower their risk of suffering from dementia and other mental issues.
Opportunity to get involved in new and exciting opportunities. Volunteerism is broad. The beauty of it is that volunteers don't have to do only the things that they love to do. They are open to trying out new exciting activities away from what they are used to doing. This is an excellent way to remain active and in the best of their moods. They could try activities in environmental conservation, wildlife protection, dealing with children and youth, community service, and many others.
Long life. Improved cognitive function, postponed or lowered risk of illness, fulfillment, and physical fitness all point to a long life for a senior who is engaged in volunteering activities.
Ending well. After all, is said and done, seniors want to leave a legacy. Volunteering offers a platform through which seniors can leave a mark or an example to be emulated by the generations that will come after.
Giving back to the community. To seniors, volunteering is a way of giving back to the community and making a difference. After an active life of working with not much spare time to do other things, retirement accords them the time and the opportunity to volunteer their skills, experience, and expertise towards a worthy cause without any monetary motivation.
Impact of seniors volunteering on the society
Volunteerism is definitely making a huge impact on society. Organizations have seized this opportunity and are now, more than ever, exploring every possible means to bring this valued asset on board. The impact that seniors are making can now be quantified.
Here is how senior volunteers are collectively making a difference in society.
Volunteering seniors have contributed significantly to the growth and development of volunteerism.
Seniors who have spent their years in employment or in business are a source of skills, experience, and knowledge in their fields. They are not only good mentors but also contribute to shaping and positioning an organization for success
Volunteering has a positive economic impact. Consider that 2.2 billion volunteering hours translated to $54.3 billion in just one year. This does not even include volunteers from other age groups. From a financial perspective, any industry or organization would benefit hugely from such a contribution.
Impact of seniors volunteering on caregivers
Volunteering has a huge impact on seniors themselves, recipients of voluntary services, the organizations that take them in, and indirectly on caregivers.
Caregivers, particularly those that take care of seniors in the critical needs category, stand to benefit significantly when the people they take care of getting involved in volunteering.
They get respite from caregiving to find some me-time or time to do other important things like catching up with their own families. 60 % of caregivers in charge of delicate seniors reported that they managed to engage more in social activities.
40 % of caregivers reported an improvement in their health and overall well-being after the seniors under their care decided to get into volunteering.
Questions seniors should ask themselves before volunteering
There are many considerations seniors need to make before applying for a volunteer position in an organization. Here are some important ones.
How much time do I have available for volunteering?
How much time are you ready to commit to volunteering? Ensure that your new role will fit into your normal schedule. Also, avoid programs that will overwhelm you physically or otherwise. This is because they may end up not giving you the gratification that you need.
Am I comfortable with the setting and location in which I will offer my services?
Just like in your former employment, the environment that you will work in matters a great deal. Does your workstation need some travel and are you well prepared for it or is there some facilitation from the organization admitting you? How easy is it to access your duty station? How far and how frequently are you willing to travel to volunteer your services? Would you consider volunteering from home?
What type of commitment do you prefer?
While some people would be okay with a one-time volunteering assignment, others may prefer a short-term assignment while still others might be comfortable taking on a long-term assignment. Some organizations may not give volunteers this option, therefore it is best to know what you're getting into before applying for a position.
Skills
Some volunteer positions require specific skill sets from a volunteer. Therefore, when applying, you will need to bear this in mind. After all, satisfaction comes when one offers skills that are most valuable to an organization. Secondly, your skills may or may not go along with your passion or interest. If it does, this will be much better for you.
If not you may have to decide between offering skills you are already good at or coming in as an intern volunteer who is open to learning new skills. However, all of this will depend on the organization you intend to join.
What are my interests and passion?
Could be you are interested in a cause that differs completely from your field of expertise and experience or your passion and interest falls within your experience. Whichever the case, you need to consider your interests. At this point in time, much as it would be good to offer the much-needed skills in an organization, your gratification is a priority. Figure out what you love doing and follow your passion.
Will there be any expenses in relation to my assignments?
Does a volunteering opportunity come with some facilitation of sorts? Most Senior Corps programs, for instance, offer stipends to volunteers to take care of their transport and other costs incurred in the course of their duty. This creates an environment where volunteers can offer their services without worrying about other issues.
Am I willing to work alone or in a group setting?
Opportunities for volunteering autonomously or in a group setting exist. Knowing how you want to work will help you make a good choice. It is important to note, however, that one of the reasons seniors go into volunteerism is to interact with others which is why most prefer working in group settings to interact with others and form new ties.
Causes that seniors can volunteer for
There are several causes that seniors can volunteer for. Examples listed under each cause can fall in any other category. Here are 12 popular causes that seniors volunteer for according to the United States Bureau of Labor Statistics:
Religious. This could be through being an usher, greeter or minister, and offering counseling or prayers.
Educational and youth service. Examples of activities in this category include tutoring, teaching, mentoring, and coaching.
Social and community service. This includes activities like collection and distribution of food and clothes, fundraising, and peer counseling.
Environmental and animal care. Being involved in animal protection campaigns, volunteering in an animal conservancy institution or orphanage, tree planting, and taking part in environmental clean-up activities.
Medical. Offering medical care and counseling services.
Legal and financial. Crime prevention, advocate in assisted institutions, offering financial advice, and helping with filing taxes.
Advocacy and Human rights.
Arts, sports and culture. These include activities like making crafts, pots, clothes, and other items, training in music and arts or being part of a performance, and being a referee or a supervisor for local sports teams.
Humanitarian, crisis and emergency support. For instance, providing services in fire emergency situations.
Media.
Civic, political, international, and professional. These include offering management and professional insight and guidance, helping favorite politicians in their campaigns,
Others. Offering general office services
Populations that senior volunteers work within the course of their service
Children and the youth
Fellow seniors
Women
The homeless and street families
Unemployed
People in small and medium businesses
The disabled
Refugees and immigrants
Tourists
Racial minorities
Lesbians, gay, transgender, and bisexual individuals
Drug and alcohol addicts
Which organizations can seniors volunteer for?
After a senior makes the decision to volunteer, the next important decision he/she will make is how to do it. The 'how' question revolves around choosing the specific organization that they would want to get involved with and thereafter, for how long they will offer their services on which specific role.
There are many organizations with opportunities for seniors to volunteer. Some of these organizations include:
Tips on finding the right volunteer opportunity
With all the benefits that volunteering brings to the volunteers, the organizations that admit them and to the society as a whole, there is every effort to create a favorable environment for all parties. However, seniors still have the task of identifying an organization (or volunteering event) that will go hand in hand with their values, needs, and goals.
These handy tips will help one pick out the right organization to volunteer for.
Consider one-off or short term volunteering if this is the very first time you are volunteering. This helps you come to terms with how things work and will also help you make the right decision in the commitments that will follow after.
Does the organization practice inclusivity (taking in people on the low-income bracket and those living with disability) or is it biased to the people it admits? If this is so, what kind of people does it take-in? Do you qualify to be among them?
How well do volunteers rate the organization? What is their level of satisfaction? Would they be glad to recommend it to others? Asking such questions helps you to understand how comfortable the working environment is for volunteers.
Do the organizational structure, culture, core values, and objectives match your expectations?
How are the roles of volunteers defined and how is their performance measured? How many volunteer roles does the organization have per time period? Would you be comfortable being the only or one among few volunteers or would you opt to work with a group of volunteers?
Is there room for growth and the opportunity to learn new things?
Don't mind if after trying out volunteering you are neither happy nor fulfilled. Move on and engage in things that make you happy.
When you finally settle down to volunteering…
Be open and expect anything. Not everything will happen the way you anticipated.
Very few times, the effect of volunteering is seen immediately. More often than not, results will be witnessed after one is over and done with the organization.
You need to be sure about what you are getting into, only then will you give your very best for a cause that is close to your heart.
Conclusion
Volunteering is certainly rewarding. It brings a new sense of purpose in the life of a senior. Apart from getting a sense of personal fulfillment, it is also good for your mind, body, and emotions. However, you need to relax and enjoy what you are doing. Secondly, never go all out only to sacrifice your me-time and time with your friends and family. Try and achieve a balance between your volunteering assignments and other commitments.